Welcome to the churchwardens' page. The two churchwardens are charged with the worldly affairs of the church. Buildings, grounds, maintenance, licenses, insurances to name but a few.
Fund raising is a major activity too especially with the two current and major projects.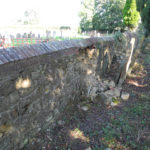 We have recently commenced work on the west boundary wall of the church yard. The appointed stonemason, Shawn Williamson was able to give us some time in September to make a very meaningful start on the wall. If you haven't seen the impressive work he has done, you should take a walk through the church yard to see for yourself. If not, there are before and after photos attached. As Shawn had some free time we made a start on the wall to show our intent and what can be achieved to restore the lovely handcrafted wall. He has completed approximately 1/3 of the west wall. Money for this month's work has come from the boundary wall fund. Shawn is proposing to return in November, weather and funds permitting. We have applied to the Capel Parish Council for partial funding and if that comes through we will be able to do a further section of the wall. Further donations from the parish and wider community are needed. Shawn would like to teach local people the art of stone masonry and we would welcome volunteers to come along in November to learn and assist. If you are able to do so…
Read More
---
Your churchwardens have started an operation clearing out the church. The West porch is now empty and can be used as emergency exit and as we know from previous years brides like to make their entrance this way. We no longer have to shift loads of boxes and other stuff to let them have their big moment. The mortuary has been cleared of unusable items and junk. Racking has been put up to store items more efficiently and we will use this space to move more items from church to mortuary. The children's play area has been cleaned and sorted by Jessie and some more weeding will take place here. The choir vestry looks almost empty and is a much better space for it. As a result we have a much better idea what we actually have and we have been able to keep items that are in good order in favour of some very tatty second and third versions we did not even know we had!
---